I grew up in the mid-1990's, thirty years ago now–when everyone whom was anyone was a Chicago Bulls fan. I grew up watching Magic Johnson, Scottie Pipen, Patrick Ewing and Reggie Miller play basketball. And of course, I remember watching Michael Jordan. Before he lost his mind and tried to play pro-baseball with the Chicago White Sox. But, we digress.
However, my childhood was dual blessed through. While watching men now seen as legends and are Hall of Fame residents, I saw Tracey McGrady, Vince Carter and the Answer Himself, Allen Iverson play as well. However, there was this steady rumbling about this dude, Kobe Bryant.
It was in high school, I remember the rumblings of this upstart dude with the funny name. I remember being in my high school geometry class hearing about how Jordan had preformed this lethal crossover on said dude during the NBA All-Star Game. Mane, and from what I heard? Had him stuck looking stupid! I remember rumbles in locker rooms and hallways about how this dude was going to be better than Jordan; 'better than Jordan could ever be.'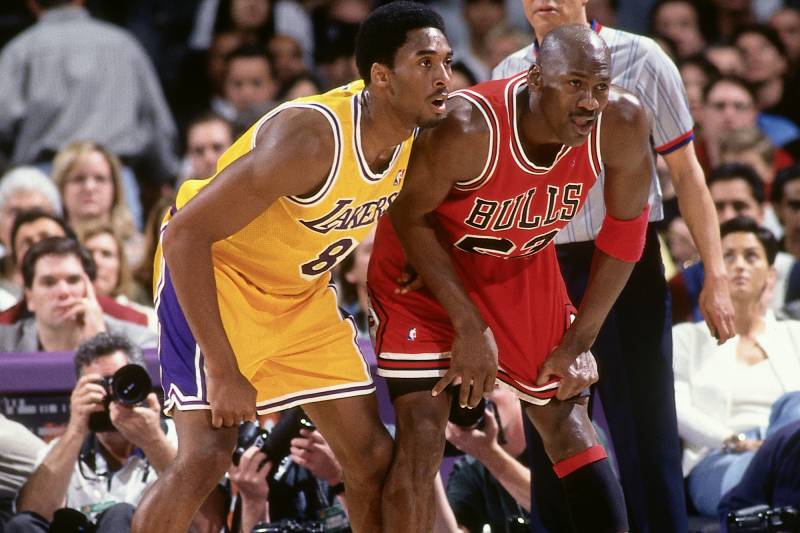 The rumblings grew after he started dating Brandy, appearing in Destiny's Child videos, and especially after Jordan retired retired. The pressure y'all millenials see that was put on King James? Yeah, Kobe had that too. I cannot express to you all how special it was to watch him play as a young man. And how that talent matured with him.
Let me hit you with some stats, but I'm sure by now you all will have either memorized or looked up. In his career, spanning 20 years:
All time scoring 33, 643 points–1,351 points ahead of the now fourth place Michael Jordan.
18-time NBA All Star
1997 All-Rookie Second Team
5x-NBA Champion.
I mean, dude scored 50 points in his last game! But the list goes on and on…as the internet will show you no doubt.
But losing Kobe in a helicopter crash, seems anticlimactic! He and his wife just had a new baby. He retired from basketball, the thing he loved more than anything. There was time to do all he wanted to do, and then–this. He and his wife just had a new baby, he was retired, and there–we thought as fans–time.
One of the reasons this is devastating for the people in my age range (on the cusp of 40 and over) is because we remember when dudes were getting drafted out of HIGH SCHOOL to go pro! Like dudes OUR age (At that time) Juniors and Seniors (class of 1996-1999) playing professional basketball! One of those kids was Darrius Miles, who got drafted out of East St. Louis!
I need you all to know that seeing that, really seeing that happen to people whom look like you at your age (Kobe was 17 when he got drafted), it grants you this level of adoration in which the person whom got such and accolade is less stranger and more family. Losing Kobe? That felt like my brother or cousin dying.
As one who lost their father at 17, I can only imagine what his wife and surviving children are suffering. I can only imagine, having walking in that space as a child. This one, this one right here, hurt. That pain is because of what we lost, what is, and what could have been. I don't want to hear anything about the celebrity-obsessed culture, click bait, and I definitely don't want to hear anything about his affair with that dame, or converse further about the MSNBC anchor Allison Morris, and the slur she used live on air the day he died!
Collective Blackness is grieving right now. We lost someone most dear to not just us, but the culture, man! We lost someone whom was in position to be statesman, advocate, teacher and student. We now have to give back this talent to the Creator whom gave him to us! It is right that the world grieve a King when he passes from this life to the next.
The world is a little darker now, a little softer now. There is one less Torch in the world. Perhaps that is the bittersweet blessing. He is gone, yet he remains. From that lingering light–we can light more Torches. Yet, we will celebrate his life and all accomplishments! We will rejoice that he has a legacy in and out of basketball! We will honor him in the capacity kings deserve!
However, we need to feel this one, #Torches. I believe we will feel it for a while.
[images from ClickPoint and Bleecher Report]