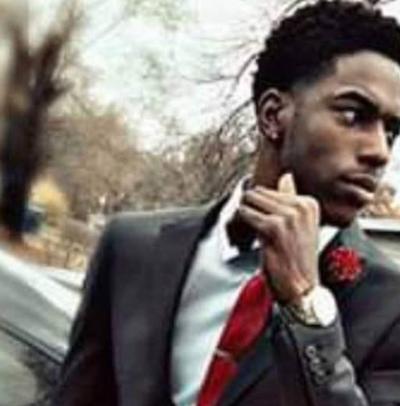 Ms. McKinnies was a prominent protest organizer in the wake of the murder of Michael Brown, Jr. in August 2014.
I cannot imagine what is like to see your child one day–alive, and planning for their future– and dead the next. I cannot imagine what kind of reality this poses for a mother, any mother. But this is the reality for Melissa McKinnies. Her healthy 24-year-old son was hanging from a tree by a bedsheet in her backyard in St. Louis County, Missouri.
The sheet her son was hung with? Ms. McKinnies says doesn't even belong to her. Or her family.
Melissa McKinnies is a Black mother, grieving in the full view of the public. Like Mamie Till. Like Sybrina Fulton. Like Lucy Bath. Like Leslie McSpadden. This level of pain, I'm sure, you would wish on an enemy! The kind of pain that is resonate, tangible and stifling! When I heard of what happened to her son? I was upset, and immediately suspicious. I had to check the level of my own anger. I can be mad, yes of course. But she lost her son. There is no level of anger I can get to which would match hers.
Rather than have this loss and pain silence, or drown her, she has fought to find out what has happened to her son. Along with fighting for police accountability in her community. There have been reports which list his death as suicide. She doesn't believe it, and neither do I
. She said her child, her son, was murdered.
The reason I cast my lot with her is due to the rash of other murders of Ferguson activists that have wound up dead under what can only be detailed as 'strange circumstances.'
From St. Louis Post Dispatch (January 9, 2019):
"The medical examiner's report said Jones lived at the home of his mother, Melissa McKinnies, in the 11400 block of Criterion Avenue. He was last seen alive by his mother about 9 p.m. on Oct. 16 as he walked into her backyard carrying a backpack. The report said McKinnies did not find this unusual. The investigation later discovered that he had texted his sister Memisha "I'm sorry" at 9:30 p.m., and that she had replied "I love you."
About 6 a.m., his stepfather Derek Chatman returned home from work and noticed a light on in Jones' basement bedroom, the report said. McKinnies was waking up. They realized neither knew where Jones was. McKinnies remarked that she often told her kids to turn off the lights. Chatman noticed the backpack on the rear patio. Then McKinnies looked outside and saw her son hanging from the tree by a bed sheet."
It has become so easy to dismiss the pain of Black mothers. It has become so easy to overrule maternal intuition in favor of science and perceived facts. It is easy to assume that Danye Jones was depressed or suicidal. It is far too easy to dismiss her cries for justice because it does not, they do not, suit the dominant (more comfortable) narrative.
Damn the narrative!
This woman lost her son! She has had to deal with a trauma most unnatural to women, but far too common for Black women. She had to see her son, given to the world by her body, hanging from tree! Ms. McKinnies has held campaigns to raise money for independent autopsy: wanting more keen eyes to examine reports, and Danye if an exhumation is needed. She has repeatedly said Danye was neither suicidal, nor depressed. She maintains the ligature used, Danye did not know how to tie! My question is if he didn't know how to tie it, who did? Moreover, then how did he get to the position that he was in?
The thing that drew me to put more light on the death of her son is that she is owed peace. She is owed answers.
Melissa McKinnies is a mother, whom lost her son, and she is owed answers! If she has a question about what caused the death of her son, let us remember the words of Ella Baker:
Freedom is wrapped up in visibility. In the acknowledgement of complete humanity, no matter the ethnicity. That freedom grants the opportunity for justice to be acknowledged and carried out! Can that same visibility still be given to Melissa McKinnies? Her grief? Her questions? Can her tears be heard? Can the life of her son matter to the world at large?
Will his life be more than added line to the growing list of hashtags?
Every hashtag equates to a life. Whether it was stolen by war, snuffed out by petty beefs, or ended at the end of guns held by skittish police!
Something happened to Danye. And someone knows what that is. More importantly, someone knows who did it.
If you have any information about what could have happened to Danye Jones, please contact the St. Louis County Police Department. There is also an active GoFundMe for #JusticeForDanye. Click here to donate.
[top image taken from Ms. McKinnies social media; video given by Ms. McKinnies]